Flood in Nepal - Disaster Collection!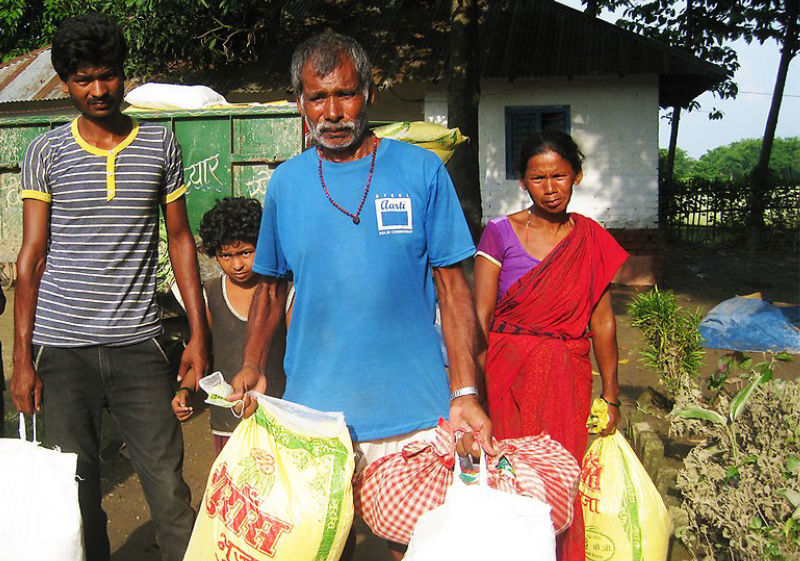 The extensive rains of recent weeks have led to severe floods in Nepal, among other places
. EFK's partner organizations in Nepal, United Mission to Nepal (UMN) and International Nepal Fellowship (INF), have appealed for our help and EFK is now starting a disaster fundraiser for those affected in the country.
A food package for about SEK 340 means that a family survives. It contains 50 kg of rice, 2 kg of salt, 5 kg of lentils, 4 l of oil, 2 kg of sugar and 3 kg of Chana (similar to chickpeas).
The amount of rain that has come in mid-August is well above normal during monsoon periods. In several areas of the country, this is the highest amount of rain in 60 years. The entire southern part of Nepal, Tarai, is affected. At least 65,000 houses have been destroyed by the floods and almost half a million people have been evacuated from their homes. Many of those who have been evacuated have, in addition to their homes, also lost all property and had their crops destroyed. The floods in large areas have also destroyed roads and the electricity and water supply.
"This is the worst catastrophe to hit the Tarai area in modern times," said UMN leader Joel Hafvenstein. of the whole area is flooded. "
UMN and INF have well-developed systems for disaster response and have been able to quickly start relief efforts in the worst affected areas. But the needs are great and more resources are needed. Through EFK's disaster fundraising, we can provide the necessary help in their work.
"We see that the Nepalese people are suffering and that the response from the rest of the world is not in proportion to the needs that exist," says Andreas Henriksson, regional leader in Asia. We believe that our partner organizations in Nepal, UMN and INF, have a unique opportunity to help "because they are already in place and know the place well. In the areas that have been affected, we are also already working with our partner organizations to reduce the risk of human trafficking."
UMN and INF have initiated emergency operations
UMN has initiated emergency operations in the areas of Sunsare and Nawalparasi, and has so far provided food to almost 650 families and tarpaulins to 260 families who have lost their homes. Nepalese authorities have now asked the UMN to extend its relief efforts to two more areas, Morang and Rupandehi.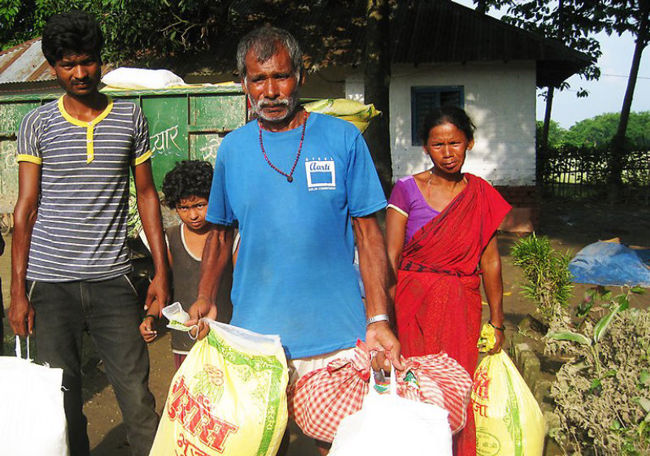 Baleshwar Bishwakarma from the Sunsari district of southeastern Nepal lost his rice crop in the floods. He and his family have received food packages from UMN and will for at least one month continuously receive the food and hygiene items they need.
INF has so far provided food packages to 625 of the worst affected households. They are also ready to assist the authorities in healthcare initiatives, as many diseases risk spreading with the amount of water.
Long-term perspective for the future
EFK's congregations have had a long-term commitment in Nepal for over 60 years. Both INF and UMN are organizations with a great deal of trust in Nepalese society and they have been involved in building up much of the country's school system and healthcare. UMN is an established player in society and has been in the country for a long time. INF was the first foreign organization to start working in Nepal. Both UMN and INF know the country, the people and the conditions well and cooperate with local authorities. That way, they can make a long-term contribution. When Nepal in April 2015 was hit by a severe earthquake with great devastation as a result, UMN and INF made important efforts - both acute and long-term.