Protect a human rights defender!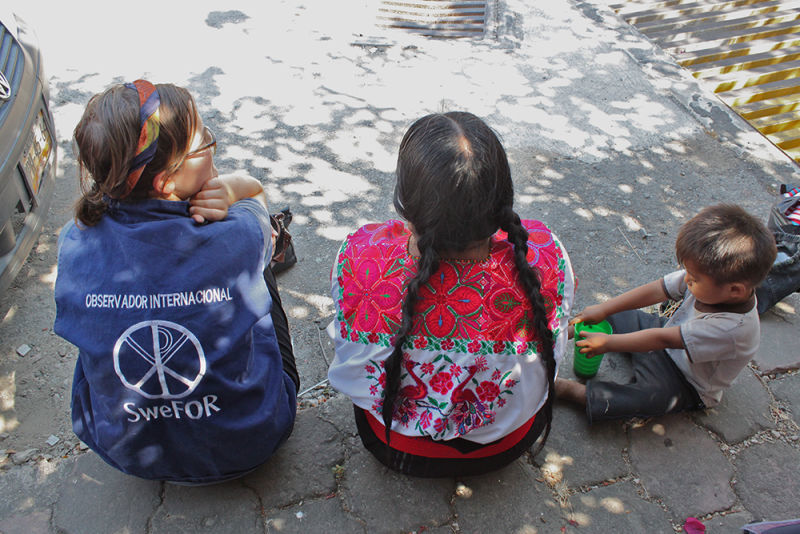 The Christian Peace Movement sends peacekeepers to violent areas in Colombia, Guatemala and the state of Chiapas in Mexico. The purpose is to provide space for local peace and human rights work and to protect the civilian population.
Our peace observers protect human rights defenders who, due to their commitment, live under constant threats of violence, harassment and death threats.
The method is called "preventive presence" and is about preventing violence. By being on site, the peace observers show that the outside world sees and cares about what is happening - and this reduces the risk of threats and violence. As observers are part of international networks of organizations and individuals responding to human rights violations, the risk of criticism and attention causes armed groups, authorities and others to avoid harassing the individuals and organizations that accompany peacekeepers.
"Accompaniment has saved our lives. "We women who started organizing for justice in Guatemala would never have survived if it were not for international support."
- Blanca Rosa de Hérnandez, employee of the human rights organization Famdegua in Guatemala
Protect a Guatemalan Human Rights Defender Through Your Contribution!
For SEK 2,000, a peace observer can provide protection to human rights defenders for one month. The sum complements the development assistance effort from Sida.
Read more about the peace observers' work here: https://krf.se/vi-gor/fredsobservateur/