Save the turtles!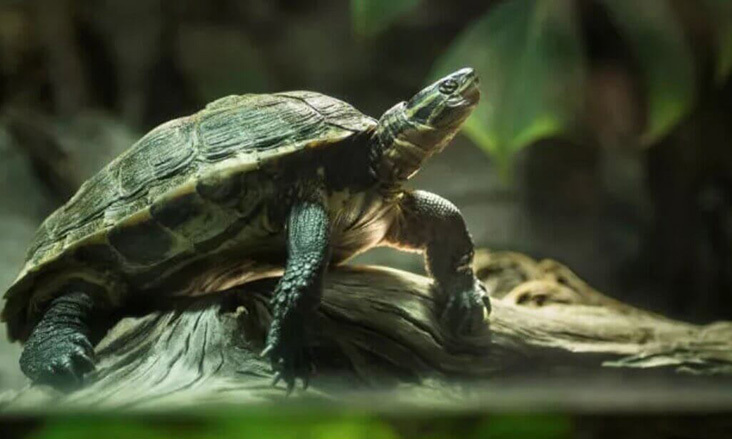 Extinct in the wild - Help us save them!
The turtles saw the large dinosaurs come and go but now they are facing their own extinction. The hard shell that previously protected them does not cure human progress. The threats are many and the demand is great. Forests and streams have been vacuumed in the search for turtles to sell as pets or as a delicacy on the dining table. Today, turtles are the group of animals that have the most endangered species and almost half of them risk disappearing soon if nothing is done.
Nordens Ark works to make a difference for several endangered turtle species.

McCord's snake neck turtle ( Chelodina mccordi ) and Vietnamese pond turtle ( Mauremys annamensis ) are two species that Nordens Ark is committed to. Both species, one from Indonesia and the other from Vietnam, are acutely endangered and are considered almost extinct in the wild. However, there is hope for the future as enough individuals are still left in zoos.
Nordens Ark is responsible for a large number of genetically important individuals and for McCord's snake neck turtle, Nordens Ark coordinates the European pedigree. As a coordinator, we are responsible for ensuring that there is a genetically healthy population in the zoo world should planting become relevant in the future.
Norden Ark is also participating in a field project in Vietnam to rehabilitate turtles confiscated from illegal trade. The project wants to ensure methods so that rehabilitation and release of turtles follow the guidelines of the International Union for Conservation of Nature (IUCN). This with regard to, for example, the origin of the animals, if the animals are carriers of diseases and follow-up of released animals. The species we will focus on is the large-headed tortoise ( Platysternon megacephalum ), an endangered species that lives in small forest streams that flow from the mountains in countries such as China, Vietnam, Thailand, Cambodia, Laos and Myanmar.
The hope is that the methods developed by the project can also be used to rehabilitate other endangered turtle species that are also affected by the illegal trade.
Together we can stop the extinction of these ancient animals. Help us make a difference for the world's turtles.