About us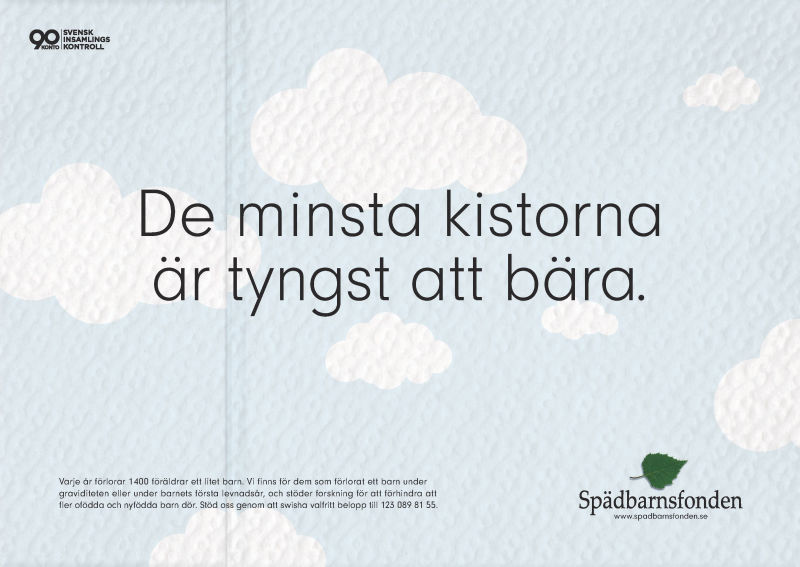 What must not happen can happen. A small child dies at the beginning of life. Losing a child is upsetting and traumatic for the family and the environment. To lose your child is to lose a piece of yourself.
Time stops and the earth stops spinning. Nothing is important anymore or even real. The feeling of loneliness is overwhelming. Every minute is at least an hour long and every day feels like a month. You need to know that you are not alone. That there are others with similar experiences. Support, confirmation and information are a first cautious step back to life. Join and support our activities and research on infant death.
VISION
The Infant Fund's vision is that no infant should die from conditions that can be detected and where medical knowledge for action is available.
All parents of a child who has died during pregnancy or childbirth and during the first year of life, must be met by professional care and treatment from health care staff and understanding from the environment.
ABOUT THE BABY FUND
The task of the Infant Fund is to work for better care and life situation for those who lose a small child before birth or during the child's first year of life. Our task is also to raise funds for research to reduce the number of children who die before birth and during the first year of life.
Every year in Sweden, about 450 children die before they are born, about 180 children die during their first month of life and another about 100 children die before they turn one year old.
The Infant Fund's activities can be summarized in five areas:
Support for families who have lost children

Information and opinion

Seminars

Scholarships and research

Collaboration nationally and internationally
GOAL
To reduce the number of children who die before birth or during the first year of life.

That all parents who have lost a child and other relatives of the child should receive support in their grief.

To increase research and knowledge about infant-related deaths.

Breaking taboos around infant mortality among the general public, health care and decision-makers.