Palestine - turning hopelessness into faith in the future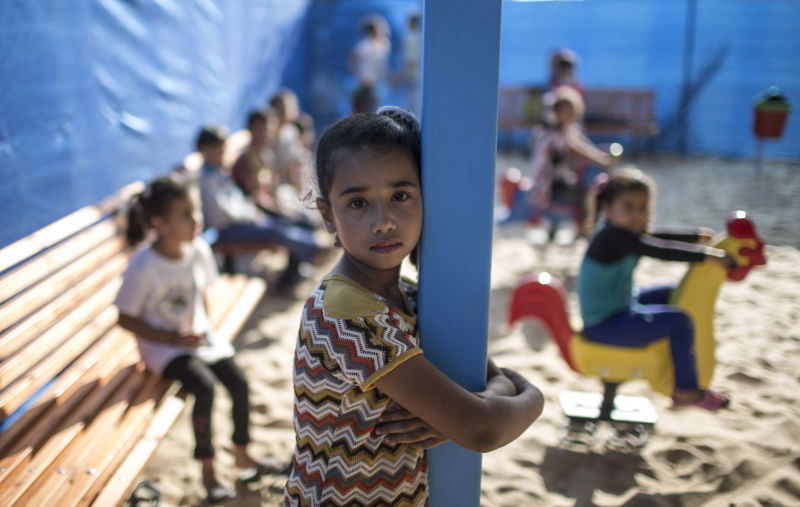 Children do not start wars. Yet they are the first victims of the conflicts. The children lose their childhood, grow up in chaos and see their loved ones killed. So it is for the children of Palestine. How can you grow up to be a harmonious adult if you are always surrounded by war and destruction? War Child's psychosocial work provides Palestinian children with tools to process their trauma and to choose paths other than violence.
THIS IS WHAT MAKES YOUR MONEY:
SEK 2,000 is enough for psychosocial support for up to 20 children and young people.

SEK 5,000 means that a child can learn tools and methods so that he or she becomes a positive and active role model for his or her surroundings, as well as to finance a number of different activities for children.

SEK 30,000 is enough for new material to hold creative workshops in our Safe Spaces.

70,000 is enough to renovate and equip a playground at a Safe Space. So that children, boys and girls, can go there and play in safety.
The Israel-Palestine conflict has been going on for almost 70 years. It has affected the lives of millions of people, on both sides. As in all conflicts, the children have been worst affected. For several generations, children who grew up in Palestine and parts of Israel have been surrounded by an unstable environment with great tensions. Due to the military occupation, Palestinian children are denied basic human rights. Anxiety and the threat of violence are constantly present in everyday life.
The conflict in the Gaza Strip has made the situation particularly tough for the children who grow up there. During the prolonged clashes in 2014, 501 children died and a total of 3374 children and young people were injured. Up to 10% of them suffered permanent injuries. The ten-year blockade of Gaza has had devastating consequences for its residents. Over 60% of young people are unemployed and access to food, electricity and other necessities is constantly a challenge.
In the West Bank and East Jerusalem, violence against children is one of the biggest problems. The places where children can play are almost non-existent, which means that they are instead forced to be out on the streets, which can be turned into war places at any time. Children and young people continue to be killed and 12-year-olds have been detained for several days without defense.
WHAT WE DO:
In Palestine, War Child works with local organizations, sections of civil society and families to protect children and young people from harm or danger. The work focuses on assisting children and young people with psychosocial support , so that they receive help to process their trauma and have the strength to turn hopelessness into faith in the future.
The work takes place primarily in our Safe Spaces , where children and young people can come to avoid the worries that characterize everyday life. Our staff strengthens children and young people's self - confidence through creative workshops and exercises where they learn to better manage the enormous stress caused by war. Children and young people are also taught human rights, respect and how to work together. Many of the children report that it is extremely valuable for them to be able to come to our projects.
Help War Child take the war out of the children. Give your contribution now!
If this project does not reach its full financial goal in the allotted time, I agree that my contribution will be used for War Child's other project to support children in war.