About us
Zelmerlöw Björkman Foundation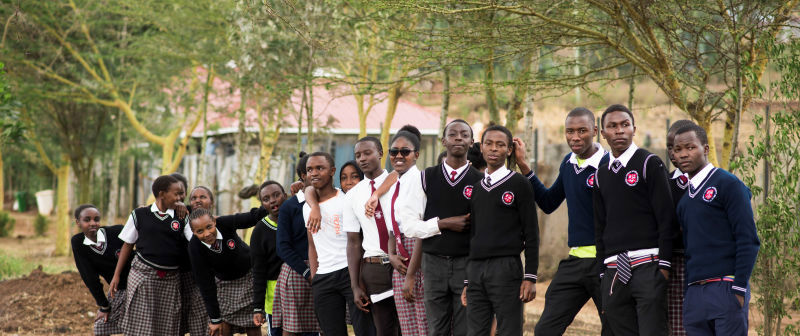 We are the organization that follows all the way!
Zelmerlöw & Björkman Foundation is a fundraising foundation that was started in 2013 by Måns Zelmerlöw & Jonas Björkman. ZBF works to strengthen vulnerable young people in Africa, all the way from exclusion and poverty to work and livelihoods. This is done primarily through education and entrepreneurship. Together with local partners, we identify young people in the slums and help them educate themselves, find their talents and driving forces, so that they can influence their own future.
Zelmerlöw & Björkman Foundation's main focus in the next few years is something we call the Kenswed model , which began in Ngong Hills, Kenya, where the Kenswed Academy was built. It was opened in 2012 by our local partner Global relations together with Isaac Macharia who is operations manager at Kenswed.
Since 2014, the Zelmerlöw & Björkman Foundation has been the main funder for Kenswed Academy and all surrounding investments. Today, in addition to the upper secondary school where there are currently 300 students studying, there is a boarding school to ensure the female students' schooling, a well with fresh water, a school canteen that provides the students with food and then in July 2019, Kenswed Hospital, a maternity and health center for our students and the local community, as the need for both preventive knowledge and health care is very great.
The next step for ZBF in the work with the Kenswed model is to start the Kenswed Vocational Education Center (KVEC) in 2020 in order to be able to offer more of the students post-secondary education in the form of various vocational educations that more easily lead to jobs immediately after graduation.
For ZBF, it is important to work long-term and sustainably. One of our basic ideas is the importance of traceability and being able to follow the money collected all the way to the purpose. Therefore, control, transparency and proximity to the program operations is something we always strive for to the highest degree. Zelmerlöw & Björkman Foundation holds a 90-account and is therefore controlled by the Swedish Fundraising Control. For us, it is essential that you can feel confident that your contribution makes as big a difference as possible and goes to what we have agreed on.

Read more about our work and become a monthly donor, partner or give a gift on our website: www.zbfoundation.se