Our story in short
Target Aid has enjoyed a remarkable development in the recent years. From providing NGOs* a service which enables them to take control of churn as well as increasing donations to supplying a full service CSR** system helping companies to drive and communicate impact.
During 2020 Target Aid signed several significant deals with high profile clients such as Mastercard, Charity Rebels and many Swedish sports federations. Our content of signed partnership NGOs grew with 470%. 
As our world speeds into digitalisation and the need to communicate company values are more important than ever, Target Aid is perfectly positioned to move ahead and expand in to new markets. Statistics derived from our platform shows an exceptional increase in platform users, generated content and donations.
With a brand new update of our platform we are set to launch in the Netherlands, followed by launches in Norway and the UK.
* A Non-Governmental Organization
** Corporate Social Responsibility
What we do
The Target Aid platform
Target Aid provides digital CSR services and tools for companies to visualize and communicate their social sustainability commitment and engagement.
The platform is also used for fundraising and social engagemant within NGOs, Sports Clubs and Federations. It can easily be replicated into new markets such as universities, schools and culture.
Our tools range from promoting sustainable projects and events, fundraising, tracking donations, presenting impact, storytelling, to intelligent pairing of a cause that fully aligns with your business.
We give our customers the opportunity to drive engagement and build their brand using CSR, creating even more effect for the charity cause and their own business.
Customer feedback
(Hover to read)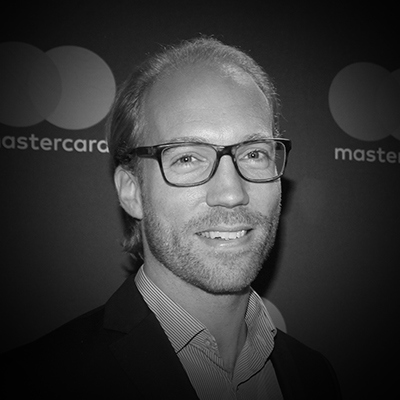 Erik Gutwasser
Mastercard
Mastercard wants to contribute to associations in Sweden so that people can continue to play and take part in sports under safe conditions. Together with Target Aid we want to make it possible to make donations and support sport clubs. At Target Aid, you can donate safe and easy with your Mastercard directly to the the sport club of your choice.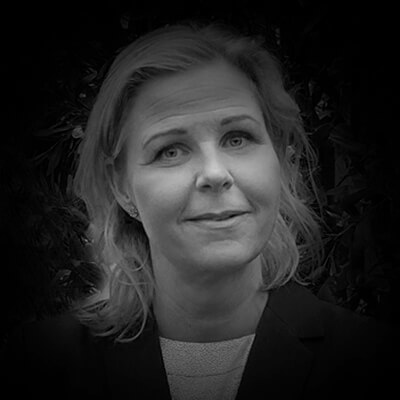 Maria Suneson
Special Olympics Sweden
Target Aid and its partners provide our member associations with a unique digital tool that makes it easy for an association to present its activities and express the specific fundraising needs at a given time. As new funding is raised, both contributors and associations will benefit as the funding will instantly make a visible difference.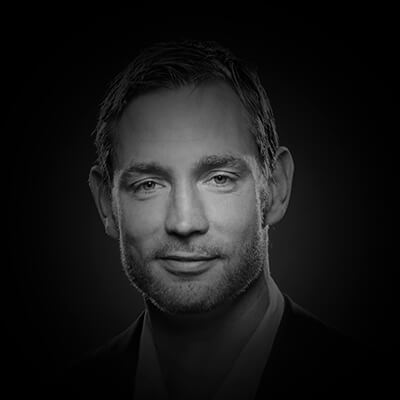 Jesper Björck
Swedish Ice Hockey Association
Our partnership with Target Aid gives us opportunities to set up specific projects that makes a difference. Our fundraising campaign – A game against bullying, which we did together with Tre Kronor and the Friends Foundation was a success. It made a real media impact, which contributed both funding to Friends as well as positive communication for us.
Principal needs
For companies
• Increasing demand from markets, target groups and employees on companies to show social engagement   
• More visibility and transparency regarding companies' work with sustainability
• Make CSR work simple, efficient and effective to drive impact and business value
For Sports Clubs & Federations
• Financial challenges to fund activities and projects
• Adopt new digital technologies to capture existing opportunities for funding of projects
• Make fundraising and social engagement easy, efficient and effective
For NGOs
• Respond to churn in monthly donors
• Continuous external demands to reduce administrative cost for fundraising
• Challenges to leverage new technologies to meet market demands and capture spontaneous giving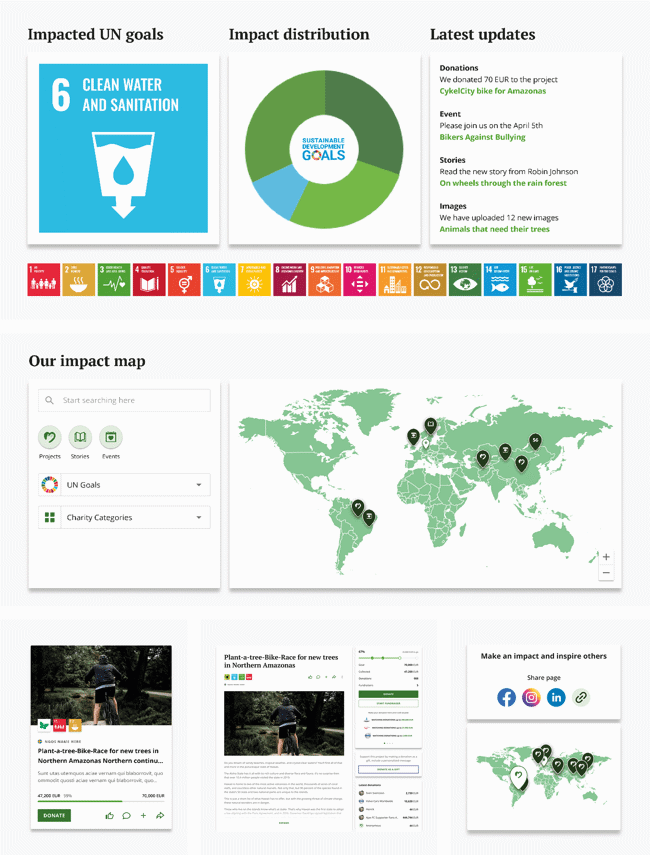 Our digital services
• Create impact by supporting a specific cause
• Choose from hundreds of different causes and NGOs
• All actions made are connected to UN SDGs*
• Search for causes within a certain UN SDGs
• Build your own impact profile, drag and drop functionality from our backend
• Create your own campaigns, CSR stories and events
• Promote your CSR activities and make them go viral
• Create your own cause together with an NGO of your choice
• Track and measure the impact, share the results
• Drive social and sustainable engagement among employees and other targeted stakeholder groups
• Localize your social contribution and engagement
* United Nation's Sustainable Development Goals
Our Business model
Our business model is a SaaS solution, where corporations and associations buy a yearly subscription to get access to our digital tools. We also create revenue through partnerships, providing content to third party platforms such as e-commerce, bonus award systems and social media.
Our financial goals
Forecast Target Aid
Turnover €


Target Aid has established a position as the number one platform in Sweden within the field of CSR, fundraising and communicating social impact. We are recognized as a very reliable front runner of supplying the latest CSR technology and a continuously growing content.
Appendix financial information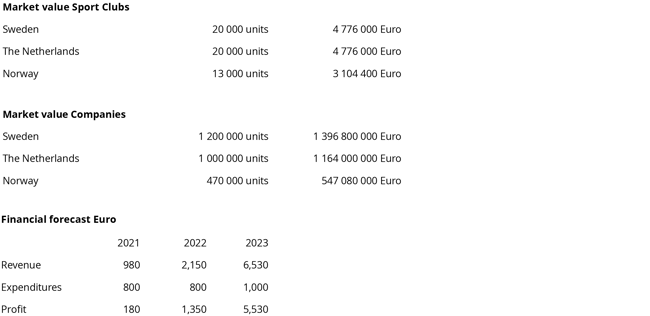 Market value Sport Clubs
Sweden
20 000 units
4 776 000 Euro
The Netherlands
20 000 units
4 776 000 Euro
Norway
13 000 units
3 104 400 Euro

Market value Companies
Sweden
1 200 000 units
1 396 800 000 Euro
The Netherlands
1 000 000 units
1 164 000 000 Euro
Norway
470 000 units
547 080 000 Euro


Financial forecast Euro
2021 
Revenue 980 
Expenditures 800 
Profit 180
2022
Revenue 2,150 
Expenditures 800 
Profit 1,350 

2023
Revenue 6,530
Expenditures 1,000
Profit 5,530

The future success of a business is deeply connected to and depends upon timing, Target Aid has all the right tools and necessary preparations. We enter 2021 with an exceptional growth in content and a state of the art SaaS business tool within CSR.
Above all we have the timing. As we enter into new markets, the world is healing from the pandemic, with businesses more digitalized than ever and prepared to repair the damage from 2020 and 2021. As a platform within CSR we cannot find a better timing!