PRICING COMPANIES
Get started with Target Aid!
Regardless of previous experience with CSR, it's easy to get started. Choose a plan that best fits your needs.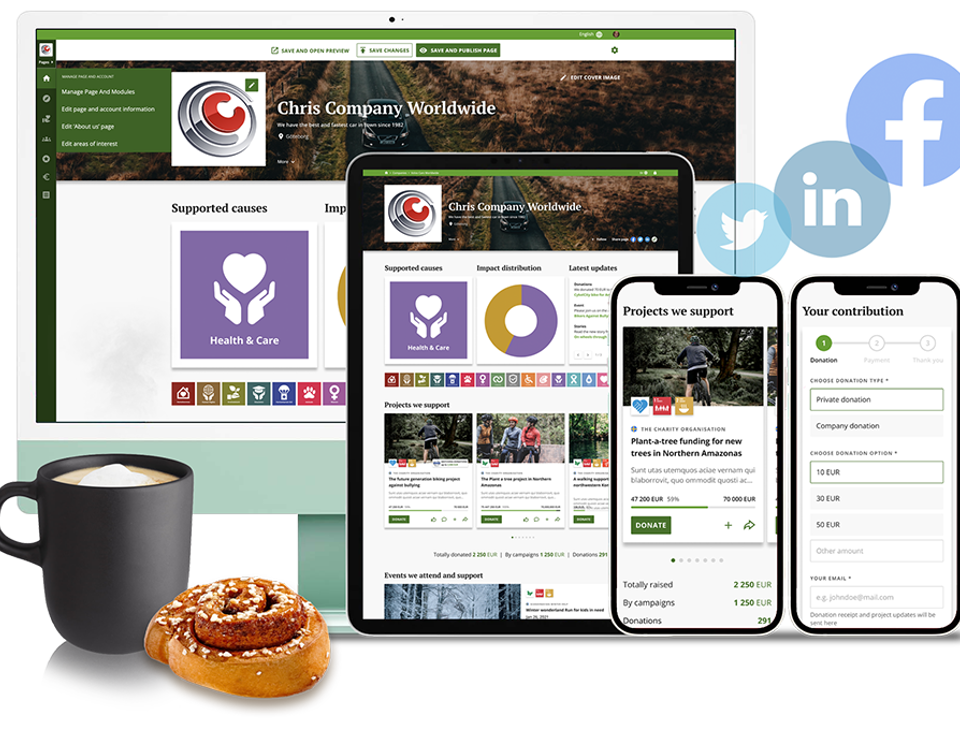 Our subscription plans for Companies
Available plans for companies and other for-profit organisations.
*Plans and fees are subscribed annually. VAT will be added. One (1) month notice. Terms and conditions apply.
There are multiple advantages with Target Aid

Free plan to get started
We make it easy for any company to get started with CSR.

300+ causes to support
Create joint CSR projects, events or campaigns with NGOs and sport organisations.

Free support to help you
We help you to get started and to optimise your use of the Target Aid platform.

Learn and grow with us
We continuously develop new CSR features to adapt to your evolving needs.

100% cloud based
Work with CSR where ever you want. Be safe with automatic updates and backups.
You're in good company

Find a partner among hundreds of NGOs and sport organisations using Target Aid
If you know a non-profit organisation or sport club you would like to see on Target Aid, please let us know.

All features and services
Compare the available subscription plans and select the one that best fits with the needs of your organisation.
Impact

Ideal to get started! Visualize your social engagement and boost your impact.

Impact Plus

Leverage more features to increase impact, engagement, collaboration and visibility.

Target Aid Profile Page

Number of Target Aid Profile Pages

1 page

1 page

Visible on targetaid.com

Customize header/footer

Add/rearrange page modules

Add 'About us' page

Add 'Areas of interest'

Add search criteria to be more visible on targetaid.com

Supported causes icons

Distribution supported causes

Automated latest updates

Users can 'Follow you'

SEO-enabled

Toolbox of modules for Target Aid Profile Page

Supported projects

Your impact map

Latest supporters

KPI dashboard

Events we attend and support

Story pages

Corporate fundraising

Voices

Matching Donations Campaigns

Search and matching services

Find causes and users

Matching service - Users

Matching service - Causes

Manage supporters and followers

Automated updates

Supporter messaging - simple

Supporter messaging - advanced (stories)

Communication and marketing tools

Digital marketing tools

Social media marketing

Automated poster/flyer creation

Automated QR-codes

Special corporate fundraising features

Online fundraiser for other's cause

Fundraiser event for other's cause

Customize donation options

Customize event ticket sales

Thank you message to supporters

Registration confirmation to attendees

Messaging to supporters / event participants

Web integration tools

Widget for web integration

Web/email icons

Data and measuring

Track/display KPIs

Access to data: Donations

Access to data: Event registrations

Administration

Admin backend application and tools

Number of administrators

≤ 2 admins

≤ 5 admins

Support

End-user support

Email/chat

Email/chat

Advanced support
Want to know more about Target Aid customized solutions for companies?
Fill in your details below and we will contact you as soon as possible.