Floorball in the Sahel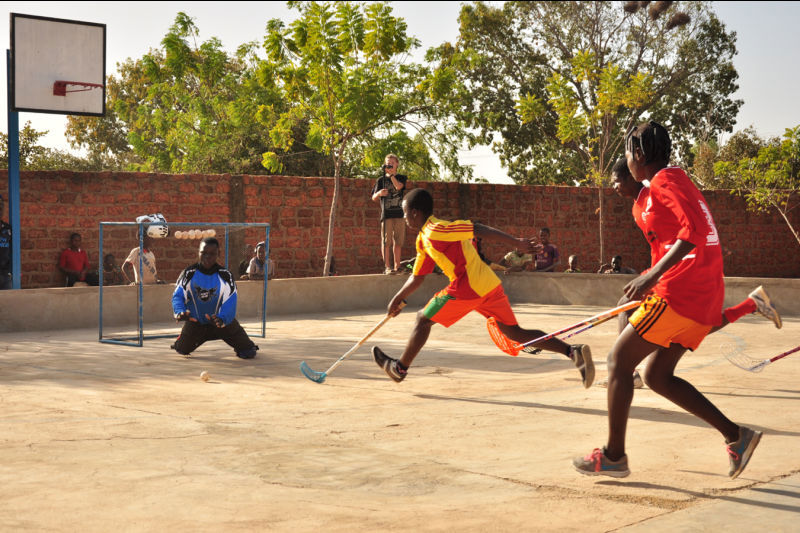 Do you want to be involved and contribute to giving young people good conditions for health, community and at the same time get a fun leisure activity? Then this collection is for you!
For a few years now, the organization Yennenga Progress has been involved in establishing floorball in the village of Nakamtenga - Burkina Faso. Not only has sport become an important part of increasing young people's self-confidence and community, but it also helps to promote gender equality by encouraging girls to take their place on the team and on the pitch, in an otherwise strongly gendered hierarchical context.
Since 2001, Yennenga Progress has been active in the village of Nakamtenga, located at the bottom of the Sahel. The organization works on the basis of its own concept The Good Village * - * A welfare society in micro format , where the focus is on creating conditions for health, infrastructure, education in countries that lack state welfare.
Floorball in Nakamtenga has so far been a sunshine story! In the last two years when the African Floorball Championships were held, several from Nakamtenga, girls and boys, were part of the Burkina Faso national team. In 2018, the championships ended with gold for the women's team and silver for men, the following year both men and women won silver.
We are now looking for funds to be able to continue operating the business in Nakamtenga. Burkina Faso is characterized by a very young and low-educated population where more than half are estimated to be under 20 years of age. This means that activities that benefit this particular part of the population are central to achieving good development and the future.
What are you contributing to?
Financing of school boys' teams, coaches, opportunities for friendly matches with other clubs, transport to friendly matches and transport to training sessions with the national team. By contributing, you are helping young people in one of the world's poorest countries to take part in exciting and rewarding experiences!